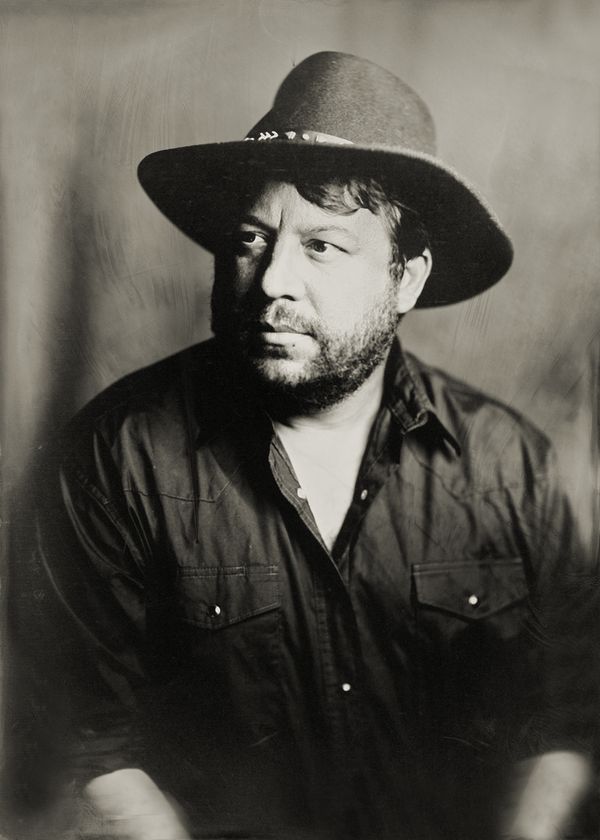 "Go With the Flow" is the 5th album from award-winning singer-songwriter Brad Lauretti. This new collection of songs was written in Nashville, TN. After his last album "Real Job" was released Bradley toured across EU and Canada, left Florida, moved to Nashville, and finished writing the songs from a balcony in Barcelona.   

"Go With the Flow" was recorded in Dalton, MA at the Stationery Factory by Johnny Irion (Producer, Mixing and Engineer) on a Studer Tape Machine previously owned by Jackson Browne, which Johnny shipped across the country. Brad and Johnny formed a spirited collaboration that included Johnny on Background Vocals, Electric Guitar, Piano, Organ and drummer Brian Kantor (Fruit Bats, Vetiver) with songwriter Wes Buckley on Bass, and Rory Verbrugge on pedal steel to create a classic analog sound.

Originally from Brooklyn, NY, but with stints in Nashville and Florida Brad is known for his DIY tenacity and intimate live shows. Whether it is a house concert, a listening room, or a streaming concert. Over the last few years, he has traversed North America and EU including Canada and Scandinavia, and even played concerts in Colombia and Tunisia. One night with Brad will run the gamut of all human emotions from humor, hedonism, activism, and heartbreaking sadness. From folk-rock anthems to indie folk, flares of Cosmic Americana, psychedelic, alt-country, to straight-up storytelling sometimes you get it all in one song. Influenced by classic songwriters like JJ Cale, John Prine, Billy Bragg, Kris Kristofferson, and Townes Van Zandt his timeless songs mix love, humor, and protest seamlessly to get you through the tough times.

The song "South Dakota" is a finalist in the 2020 Chris Austin Songwriting Contest (Merlefest). "South Dakota" has already been included on Spotify's "Indigo"  "Emerging Americana" and "Cosmic Country" Playlists, Rolling Stone France, Indie & Folk Radio, Songpickr, The Alternate Root, OCTA, Dust of Daylight, and Ear to the Ground playlists! It is getting regular spins on Folk and Americana Radio including The Current, WMOT, and WXNA.
Bradley has performed all over the world including Retrospectrum: Bob Dylan at the Frost Art Museum, Woody Guthrie Folk Festival, Folk Alliance International, SERFA, Nordic Folk Alliance, Live at Heart (Sweden), Sing Out Loud, Magnolia Festival, Hickey Fest, Gamble Rogers Folk Festival, Gram Parsons Guitar Pull, End of the Road (UK), Reeperbahn, Incubate, Athfest, Sing Out Loud, and Savannah Stopover. He is also the founder of the Stetson Kennedy Songwriter Residency in Fruit Cove, FL.

https://www.facebook.com/thisfrontierneedsheroes/    

https://thisfrontierneedsheroes.org/

Twitter / Instagram @thisfrontier


"Go With the Flow" was the first song written at Stetson Kennedy's house in Fruit Cove, FL at the historical park where Brad wrote his last album "Real Job." (2016) He was going to handle his new life as a true solo artist with a positive spin. The idea was inspired by North Florida's beautiful freshwater springs where you can rent a tube on the side of the road and float downstream. It is an upbeat song, about when life hands you challenges sometimes it is best to just sit back relax and see where life takes you.

"South Dakota" is a finalist in the Chris Austin Songwriting Contest at Merlefest (2020) and was inspired by someone from South Dakota who randomly kissed me on a night out in East Nashville and then never returned my phone calls. The love song meanders into the last verse inspired by the unfinished Crazy Horse sculpture out in South Dakota, "Crazy Horse is staring at the grasslands / Deadwood, Black Hills to the Badlands / Buffalo, Wounded Knee, Black Elk Speaks / They stole the gold and traded a dust bowl."

"Dumb it Down" is a satirical song about people trying to write a hit song in Nashville by appealing to the lowest common denominator, but it also satirically addresses the crisis in democracy in the age of disinformation. It is very common for both sides in the political debate to call each other "Dumb." People are being intentionally misled and misinformed to achieve a certain political outcome and cause chaos.

In my more cynical moments, I kept coming back to the idea that life was a series of mistakes and that you have to clean up the mess you make. No matter how hard you try to prevent it, you just do the best you can. Hopefully, everyone can relate. The song "One Mistake" after the other was born.

"Weak" was the first song I wrote when I moved to Nashville. My friend invited me over for soup and to meet some friends. We hung out all night singing songs, and when I went home I just thought about what it was like meeting new people when you are vulnerable and still processing an old relationship.

People have a love/hate relationship with where they are from or where they live. I was feeling lonely and missing my friends when I wrote the song "Don't Hate Your Hometown." I thought about what it was like as a teenager being bored in the suburbs, but also being grateful for the friends I had. This is a song about dreaming of moving to the big city, which in my case was New York, to play music and be an artist.

"When the Muse Comes" is a song about the songwriting process. The elusive muse. Where does a song come from, what inspires you? Is it sadness? Is it happiness? Is it work? Is it boredom or songcraft?  

"Limit of Love," I wrote this song in Rome, Italy. It is just a simple musing on how we see each other, and what is the difference between love, lust, and desire.

"Fossil Fuel Fascists" is a song I wrote when Trump nominated Rex Tillerson (CEO of Exxon Mobil) to be the Secretary of State. It is a powerful anthem against corporate interests seizing the powers of the state to lie and manipulate the people in order to make profits. 

"How Leonard Cohen Learned Guitar" was the last song I wrote for this album. Leonard Cohen died right before election day. I was endlessly searching for stuff I hadn't seen on Leonard Cohen and came across a speech he gave in 2011 after receiving the Asturias prize for Literature. He told the story of how he learned to play a guitar from a Spanish Guitarist who later committed suicide. It is a song about everything you miss out on when you commit suicide. This guitarist inspired Leonard Cohen and we don't even know who he was. Then I started seeing other connections how Leonard Cohen's favorite poet was Federico Garcia Lorca and how Lorca was murdered. I was pondering the role of the poet in our society. 
"Vocally, the songs brings to mind the likes of troubadours such as Billy Bragg, but with a touch of rockabilly and doo wop thrown in for good measure. The video and lyrics speak to the kind of dysfunctional relationships we've all experienced, and with Brad Lauretti at the helm we are given the feeling that everything will be A-OK in the end." -Glide Magazine
 "'Free Market Music' is dedicated to all the hard-working musicians, and people of the world, who don't always get paid what they should, but always show up to work," Lauretti says. "That spirit is what makes America great!"-American Songwriter
"Inspired by the same fertile ground where Woody Guthrie once wrote, he penned some his most thoughtful, mature work to date– protest songs that react to the tense political climate in our nation today." -Elmore Magazine
"Traveling troubadour, Brad Lauretti, is back with a new album of irresistible tunes under his nom de plume, This Frontier Needs Heroes. Real Job is coming out October 14th, and sounds like a departure from older releases. He's tackling the real issues, from music theft to gun control. The first single from the record, titled "I Love Immigration" is about exactly that!" -Paste
"It's a toe-tapping delight that will surely have you singing along in no time; whether you want to or not!" -Paste

LISTEN: THIS FRONTIER NEEDS HEROES, 'MY HEART TELLS ME YES' -The Bluegrass Situation
"We're warning you now: You might fall in love with someone in the room during this band's set. So genuine, so commanding, so deceptively simple is TFNH's music that, before you know it, something inside you has shifted - suddenly your staring into someone else's eyes from across the bar." -Folio Weekly (Jacksonville, FL)